Blog from Sibylle.

The beginning…
I have no idea what to expect. I have never been in Poland before, I don't know any blind people and I am not a racing cyclist. With little sleep, too excited, I started from Cologne to Rzeszow. At the airport Klaus is waiting for me – luxury, not even blind, I am nevertheless picked up and warmly welcomed. On the first afternoon, we still have free time and so Klaus and I wait for the rest of the group after we drove through the Rzeszow traffic jam. A little while later, Chris also arrives at the hostel. I have a bit of a bad conscience because he left Frankfurt the day before with the Flixbus, 22 hours…I flew only four hours.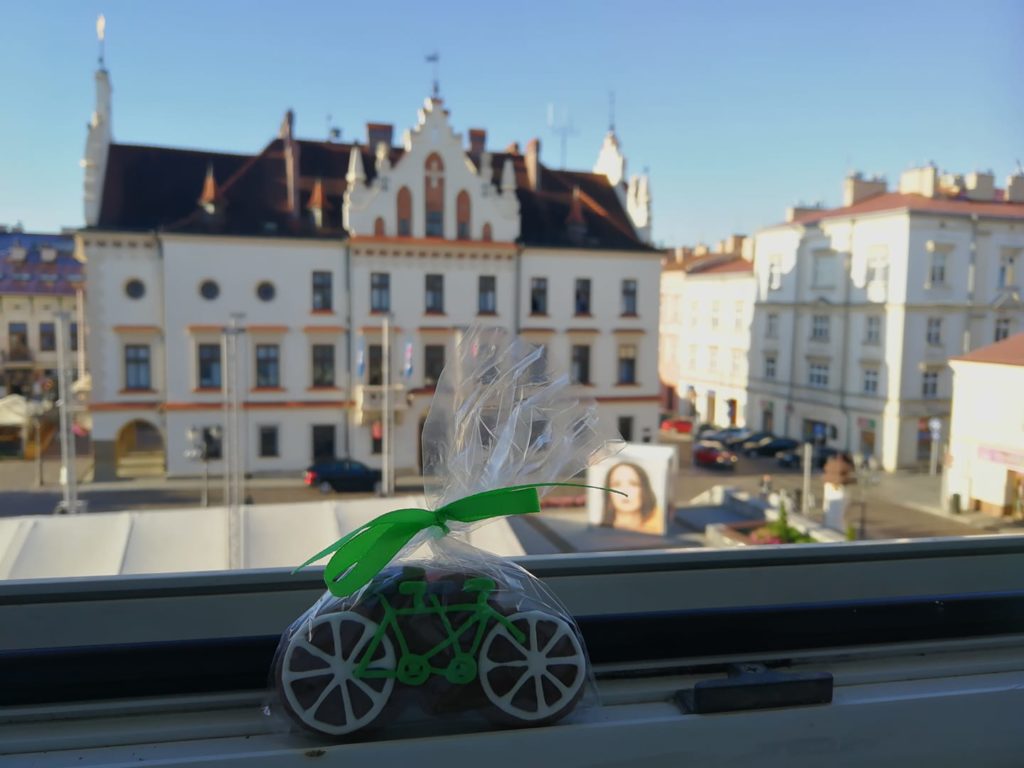 Photo by Sibylle Schmidt
I am inspired and I intend to behave even more climate friendly in the future. In the evening the group arrives, I learn that the border crossing from Ukraine to Poland took longer than I had expected. It becomes loud and a little chaotic. Polish-German-Ukrainian-English gibberish. And it is fun! Without further ado, I hook into Ivan from Ukraine and go with him to the bus, where our luggage is waiting. Later I find out that he would have found the way by his own, with only 2% vision. I am amazed. The next participant Marina speaks almost no English but is highly motivated. In the evening there is a great dinner. We are a few minutes late. Chris, Klaus and I, all fully sighted, manage to get lost even with Google Maps. In front of the restaurant, Martin already waves to us, whom I finally got to know. Martin was my initial contact with the Velomarathon. He had advertised for participation in the Facebook group of the Critical Mass movement.
For vegetarians like me, there are pierogi with cheese-potato filling served and I'm thrilled, it tastes great. And since I haven't been cycling all day, like most of the group, I'm not that hungry yet. This will change in the upcoming days.
The first day
The first day is hard. From excitement, I had again too little sleep – and this although I am spoiled with the luxury of a single room. After a sumptuous breakfast, I was told that the route would be 95 kilometres long, with over 800 meters of altitude in total. As a native East Frisian (Northwestern Germany), I am not able to handle mountains. Moreover, I have never sat on a tandem before.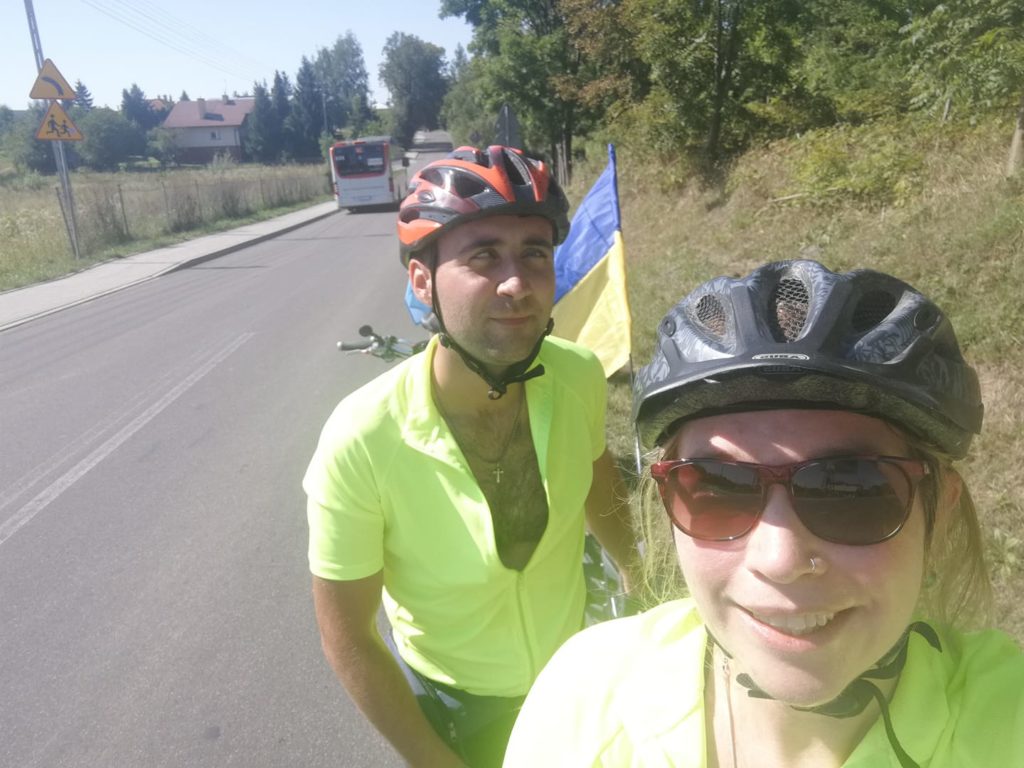 Photo by Sibylle Schmidt
The first exercises on the cobblestones on the Rzeszow market place together with the German participant Fabienne and the Ukrainian participant Ivan are accordingly shaky and I wonder if I will be able to survive the ride. Nevertheless, my tandem partner Ivan, very athletic and a great cyclist, gives me safety and comfort very quickly once we sat on the bike. And I have the best tandem, which his completely blind best friend Eugen, who at 49 years of age never misses a velomarathon and seems to have been born on the bike, provides privately. After we have left the city traffic behind us, we ride through the hilly landscape in the sunshine. It is a fantastic feeling to ride in a group. Even though we face some challenges. For instance, we have to manage to get over crossroads together and some are faster than others which requires some arrangements. As the tandems are all different and some have 5 gears, others 28, the ascents are especially challenging. I quickly realize that Ivan is in the need for speed and loves to climb up the hills and especially to drive downhill. If the group is too far apart, we all gather again by making shortstops. Ivan as a navigator is neither equipped with gears nor brakes. I have the power over the tempo – or do I not? Ivan pedals and I follow. Our main dialogue: "Why you breaking". "Too faaaaaast!!!". I alternate between shouting, cheering and laughing.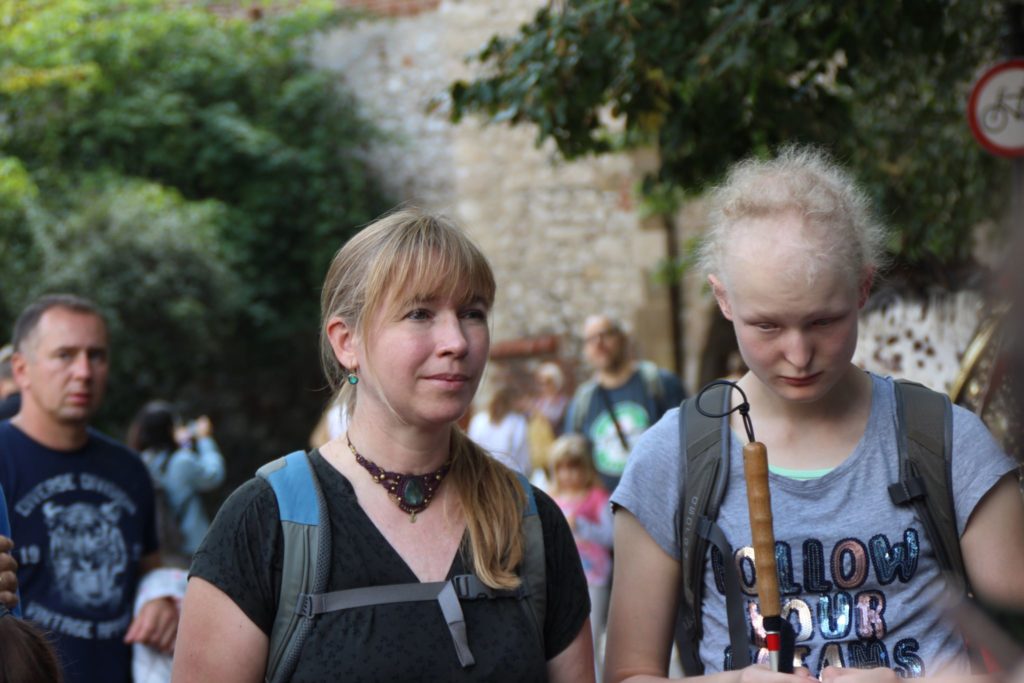 After the first big break, I jump on the offered sweets – cookies! Fitness bars! Later this will become a running gag. Of course, fruits and water are also available. Everything is provided by the bus, which Klaus drives in front. I have the feeling to consist only of endorphins. Thanks to Ivan I made it up the mountains. Even in the evening, my knees are still intact. Among other reasons, because we "only" drove 87 km and the rest of the way to Tarnow was done by train. For dinner, we have pierogi again. And I rush hungry like a wolf to the meal. I am amazed by our participants. Above all, I am impressed by their motivation and the will to persevere. Blind or not blind, it doesn't really matter. And I notice that we complement each other wonderfully in our strengths. While Ivan helped me by pushing me over the mountains during the day, I am happy to assist those who are looking for a good place to smoke a cigarette, to show where the coffee is or where they can find the toilet. I am amazed again because so much guiding is often not necessary. Whereas I get lost several times, some of them have a top sense of orientation blindly. But not all. Because, as I learn here, that is a cliché as well. Julia, 19, from Mannheim (Germany), says of herself she has an extremely poor sense of orientation. But in return, she lives alone and likes to cook. Therefore she invites me to visit her in Mannheim for a home-cooked meal after the velomarathon. Not the last time I am deeply impressed. There will be many more such moments in the upcoming weeks.
From Jerischke to Jessern
12.09.2019
Today we cycle from Jerischke to Jessern. The day starts with sunshine and a blue sky. I can cycle with Eugene again. Eugene is from Odessa and he loves cycling. He is 49 years old and he participated in all the five international Velomarathon-tours. He has been cycling since his childhood. Like his brother, Eugene is blind. Eugene is my perfect bike buddy. He can speak neither German nor English and I do not know Ukrainian. But if it is necessary, I cluck like a chicken or miaow like a cat while cycling through the villages as well as the cities. This is how I learn Ukrainian vocabulary for animals. Meanwhile, Eugene gets to know what is shown in the periphery.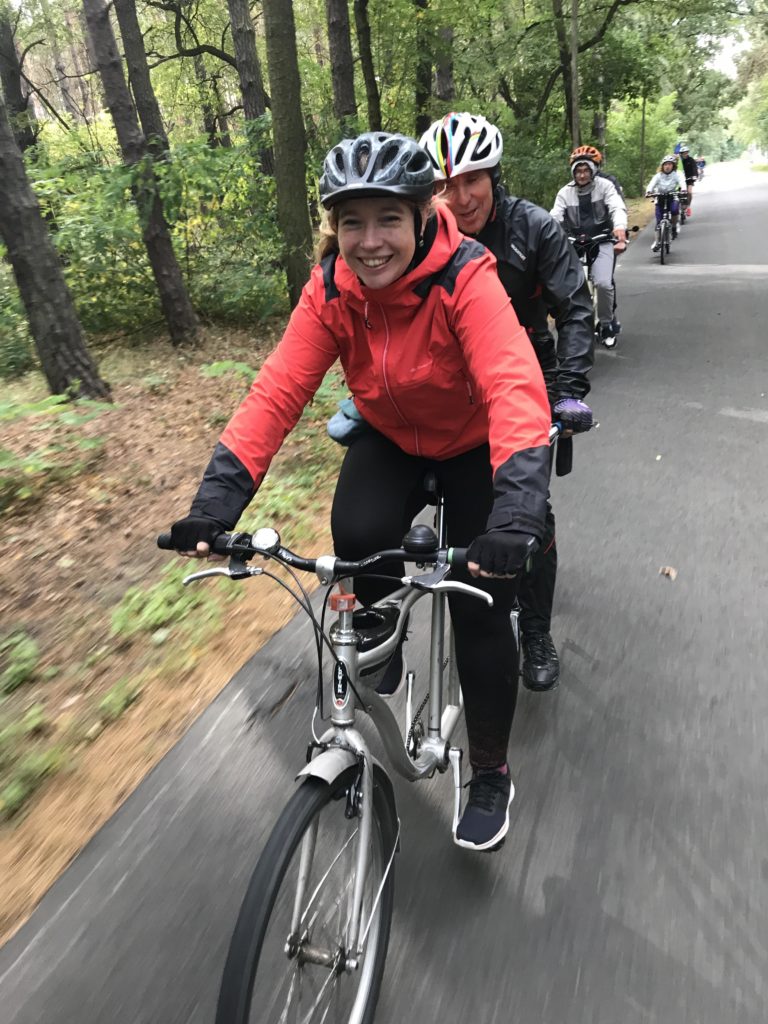 But back to the tour. After a luxurious breakfast, we go on cycling till our lunch break in Burg, which is about 18 kilometres away from Cottbus. The mother of our project coordinator Martin, the mother of his cousin as well as a participant of the Velomarathon Till and supporters from the protestant church of Burg have prepared potato in the skin with curd and linseed oil, onions as well as fresh tomatoes for us. In addition, we have fruit tea mixed with multivitamin juice. It is fantastic, even though it is not even half-past eleven and we just have had our breakfast. The ladies are highly motivated. They started preparing lunch at eight o'clock in the morning. After lunch, all of us are completely full. Some of us have filed a postprandial table tennis match. But we leave Burg and cycle for 8 more kilometres to the Spreewald for a canoe tour.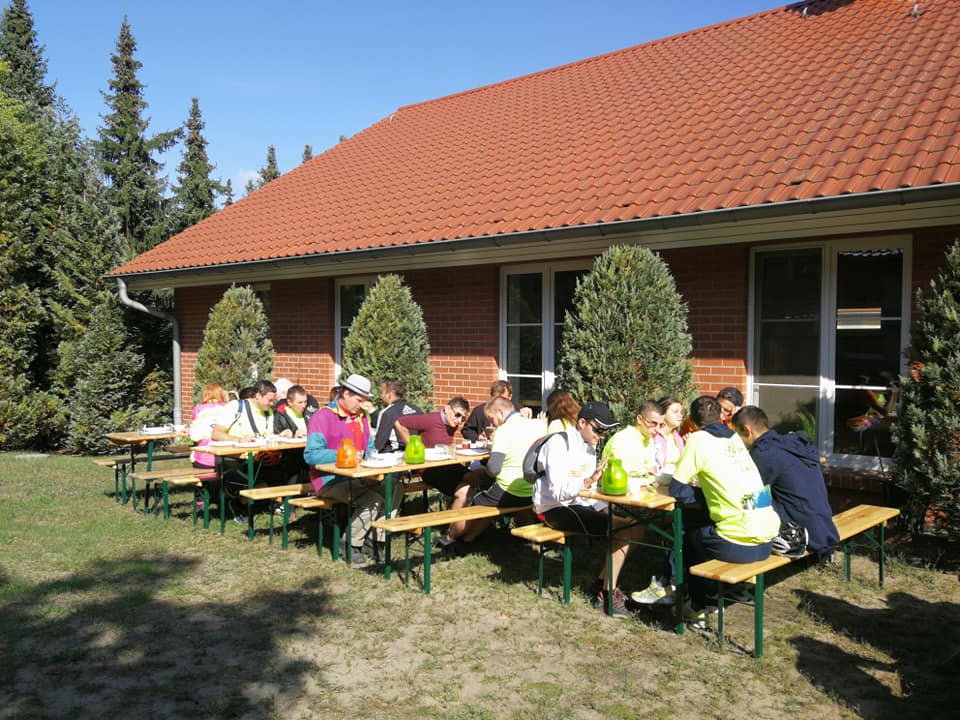 Photo by Sibylle Schmidt
There are bike paths and they are mostly in acceptable conditions. To that, we hardly meet cars. We cycle through beautiful old pine forests and we smell the pleasant resinous smell of pine needles. We learn that there are 500 kilometres of interconnected waterways and 350 possibilities to take a wrong turn. Optimistic, but also with mixed feelings, we get together into teams of three to five people, depending on the size of the canoes. The helmsman or the helmswoman, preferably a sighted person, is sitting in the back. At the beginning, we meet school groups and senior citizens groups at the three- or four-meter-wide channel. It is Sunday and many people want to spend their leisure time on the water. The initial chaos is photographed by Klaus.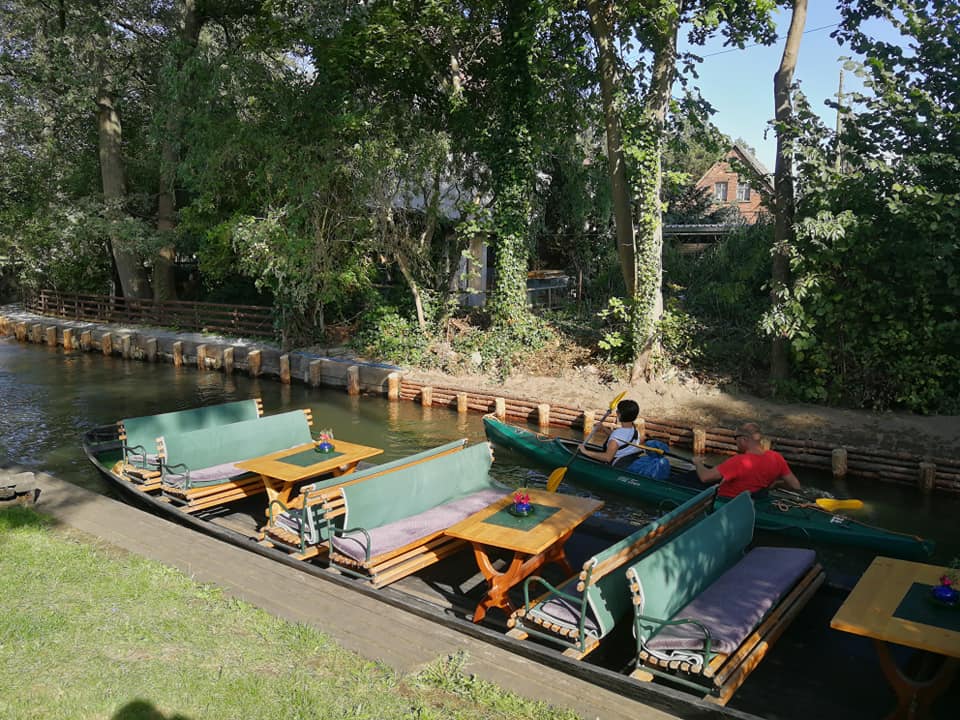 Photo by Sibylle Schmidt
I am in a canoe with 19-years-old sighted Pia from Germany, Victoria from Ukraine and our German-Ukrainian group leader Xenia, who is in the position of helmswoman. The sighted Ukrainian Victoria 2 is struggling behind us in a canoe with her task as a helmswoman. We decide to change the positions of Pia and Victoria 2 as Pia is experienced in being a helmswoman. After initial counting, our girls-team-canoe finds its groove and we glide on the water almost meditatively. There are trees on the left and on the right. Three cows are relaxing at the shore and looking curiously at us. The activity becomes less on the water. From time to time we reach the shore and crash into bramble stems as well as trees. But this happens so smoothly that the canoe and the people are not damaged.
After two hours of canoeing, we arrive at the shore and we are convinced the canoeing is also fun for blind people. I get a coffee and a fish sandwich. Some people enjoy beer. However, more tandem navigators than pilots are drinking as they do not have to steer. Then, we cycle for 28 more kilometres to Jessern. There we arrive at a magnificent accommodation which is located right beside the Schwielochsee. A group of volunteers takes care of the dinner with great zeal. They prepare fried potatoes, a salad and black tea with lemon. I volunteer for the dishwashing team, so I use the time between arrival and dinner for a short walk to the lake nearby. The sunset is fantastic.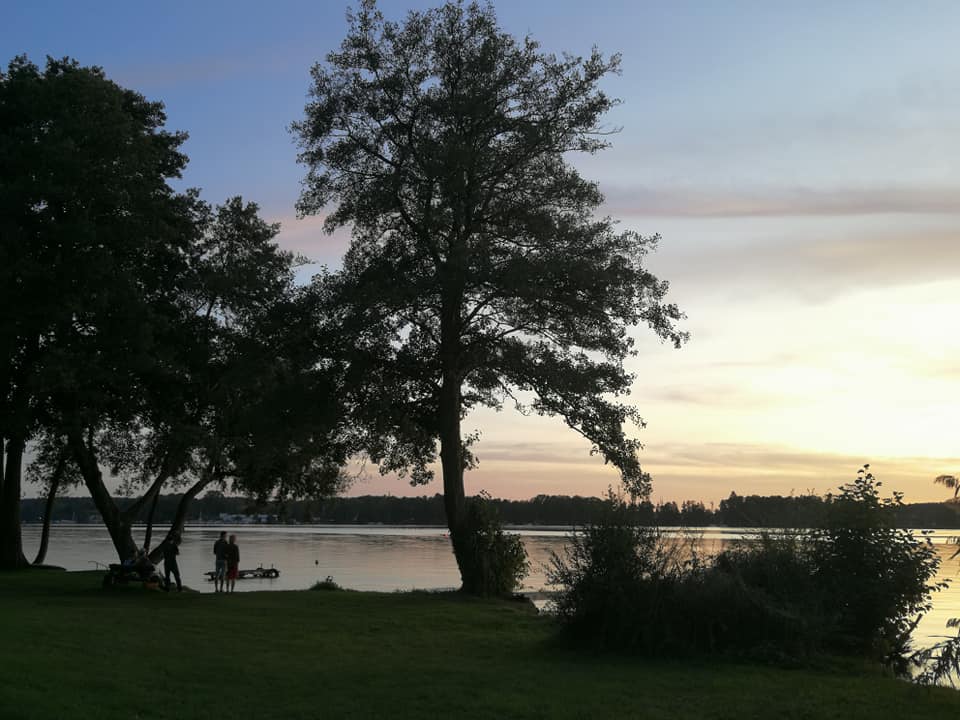 Photo by Sibylle Schmidt
There is a piano in the dining hall and when I get back to the accommodation, I am welcomed by a wonderful piano playing by Adam. Adam, who is called Adamski just for fun, is our Polish group leader who studied among other things piano playing. Adam has extensive expertise in history. We have been impressed by this expertise in Krakow where he gave us a tour with a lot of interesting background information. We have dinner, listen to jazz music and enjoy the cosy atmosphere.
After dinner, I am doing the dishwashing with the dishwashing team. However, the daily reflection group time starts soon. Each evening we meet in individual national reflection groups where we can discuss what worked well, what we particularly liked about the day or what we would like to change. I smile as everything was beautiful and as this was not every day the case. Later, I learn that group leader Martin who was also part of the dishwashing team had to do the dishwashing for the rest of the evening as the industrial dishwasher did not work properly. Poor Martin… Still, he had some telephone conversations while doing the job.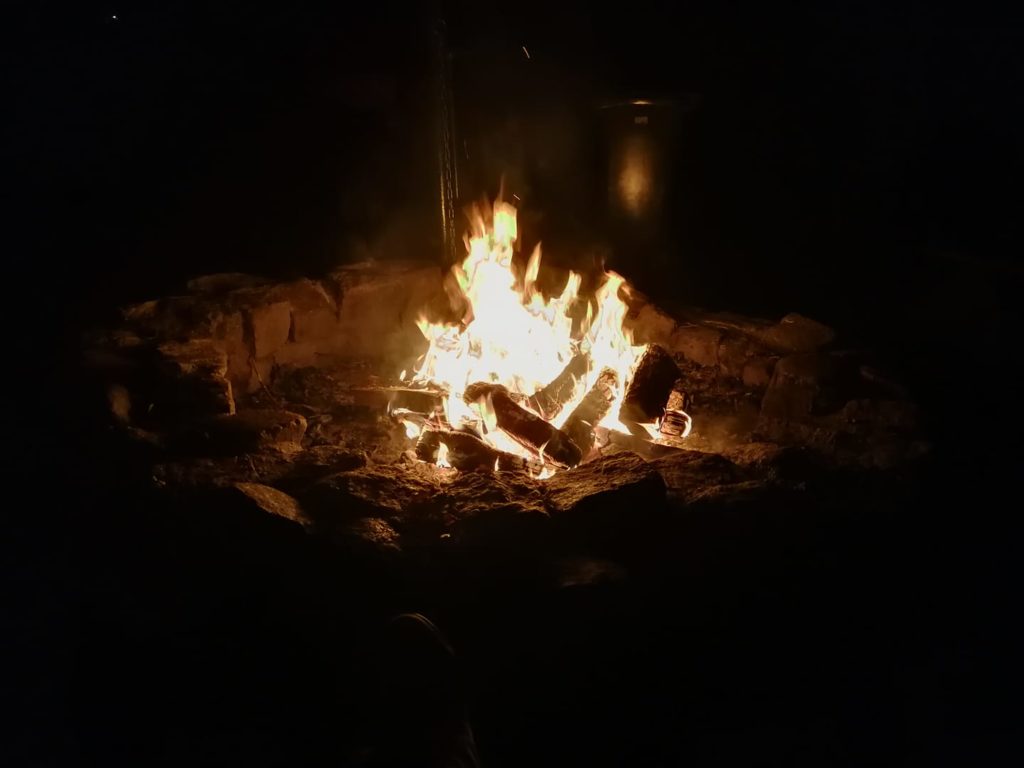 Photo by Sibylle Schmidt
Following the dinner, another group of volunteers is taking care of a bonfire as the nice accommodation also has a fireplace close to the lake. Even though I love bonfires, I do not join and fall into my bed in our four-bedroom. Pia does the same as she is tired, as well. The day was long – After a tandem cycling tour of 60 kilometres and two hours of canoeing my "batteries" are empty. But I have a great time in my memory.
I sum up: Canoeing is possible for blind people, especially when the helmsman or the helmswoman of the canoe is sighted. Even though you might crash into the shore from time to time. Everything is teamwork!